Filter by Category
Poetry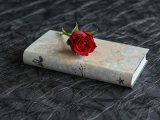 Writing Poetry
with Ross Burkhardt

Mar 2, 2022 at 9 am

, runs for 7 weeks
COURSE DESCRIPTION: Poetry is the language of love, art, imagination and discovery. Each of us is an emerging poet, published or unpublished. Is there something you want to express in poetic form but don't know where to begin? Here is how to take your first poetic steps – or improve your current poetic practice.
In this WRITING POETRY course you will consider several aspects of poetry (the framework), evaluate several assertions about poetry (the theory), examine several elements of poetry (the tools), discuss several classic poems (the context), compose several poems on topics of your own choosing (the individual work), share your poetic drafts and revisions with others in the course (the group work), and "publish" some of the results (the celebration). 
THE INSTRUCTOR: Ross Burkhardt taught young adolescents for 35 years. A Dartmouth graduate and former Peace Corp Volunteer in Tunisia, Ross is the author of "Writing For Real" (Stenhouse, 2003) and "Using Poetry in the Classroom" (R & L Education, 2006). Ross was inducted into the National Teachers Hall of Fame in 1998.
MEETING DATES: Wedmesdays – 9 A.M. to 10:15 A.M. on  March 2, 9, 16, 23, 30   April 6,13   
Will run