Filter by Category
Crime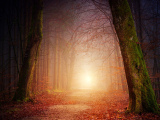 Mainely Books: Crime Stories
with Steve Thornley

Apr 17, 2023 at 10 am
 We've launched an exciting program to introduce you to and explore the vast and varied (like our landscape) body of literature about Maine by Maine authors…or about Maine by non-Maine authors…or non-Maine topics by Maine authors. Our scope will be wide-ranging and will include both old and new works of fiction and non-fiction. We'll read well-known authors and introduce you to some new ones. It'll be an eclectic assortment of interesting and provocative readings that hopefully stimulate your "little gray cells" and generate lively conversation.
This course will meet on Monday mornings, via Zoom from 10:00AM to 11:30AM to discuss the following books on these dates:
 April 17th: The Poacher's Son by Paul Doiron
 May 15th: Among the Shadows by Bruce Robert Coffin
Steve Thornley is an artist, historian, teacher, and lifelong learner and lives in Wells with his wife, Nancy.