Filter by Category
Communication
Justice and Morality: What is the Right Thing To Do?
with Jeffrey Patten

Feb 9, 2022 at 6 pm

, runs for 4 weeks
      Look to challenge your thoughts, values and decisions in your everyday lives. This course, inspired by the popular Harvard University course titled "JUSTICE," is designed to introduce individuals to a higher-level cognitive/moral experience that will surely challenge your thoughts and beliefs. This mini-course strives to discuss and think about the proverbial question….  "What is the right thing to do?" As our country splits on the political issues of the day, it is more important than ever to be able to understand why we believe what we do. This course does not promise to make you a better person, but it does promise to get you thinking about where you stand in the debate concerning this important question of political philosophy. 
Your Instructor:
Jeffrey Patten is a native to the York Community and lives in Cape Neddick, Maine. He completed his undergraduate work in history at the University of Maine at Farmington and then after teaching for several years, entered a graduate program in traditional history at Northeastern University. He has taught at the undergraduate level at Northeastern University and tutored history and government at Wellesley College and Simmons College. However, much of his teaching experience (I.e., 35 years) has been at the secondary level teaching juniors and seniors both advanced and survey US History along with a long list of electives including the "Justice" course. 
Time: 4 Class Meetings…90 minutes in length…. Wednesdays…:
Feb 9, Feb 16, Feb 23, Mar 2.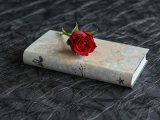 Writing Poetry
with Ross Burkhardt

Mar 2, 2022 at 9 am

, runs for 7 weeks
COURSE DESCRIPTION: Poetry is the language of love, art, imagination and discovery. Each of us is an emerging poet, published or unpublished. Is there something you want to express in poetic form but don't know where to begin? Here is how to take your first poetic steps – or improve your current poetic practice.
In this WRITING POETRY course you will consider several aspects of poetry (the framework), evaluate several assertions about poetry (the theory), examine several elements of poetry (the tools), discuss several classic poems (the context), compose several poems on topics of your own choosing (the individual work), share your poetic drafts and revisions with others in the course (the group work), and "publish" some of the results (the celebration). 
THE INSTRUCTOR: Ross Burkhardt taught young adolescents for 35 years. A Dartmouth graduate and former Peace Corp Volunteer in Tunisia, Ross is the author of "Writing For Real" (Stenhouse, 2003) and "Using Poetry in the Classroom" (R & L Education, 2006). Ross was inducted into the National Teachers Hall of Fame in 1998.
MEETING DATES: Wedmesdays – 9 A.M. to 10:15 A.M. on  March 2, 9, 16, 23, 30   April 6,13   
Will run
On the Air: A History of Radio in America
with Paul Doherty

Apr 1, 2022 at 1 pm
In this six week course, we will explore the history of radio broadcasting in America from its beginnings through the pre-television glory days to radio finding its own niche right up to the present.  In our broadcasting journey, we will see and hear a variety of programs, personalities, historical moments, and, of course, the music that helped keep radio alive.  And all this from a former radio insider!  So come join me in our ZOOM radio studio, as we go ON THE AIR!!
Paul Doherty's life experience includes eight years of radio broadcasting in Massachusetts.
Classes April 1, 8, 15, 22, 29 and May 6
Will run