Filter by Category
Our Classes
Easy Watercolor Projects for Beginners
with Judy Gaudet

Oct 21, 2021 at 1 pm
In this continuation of Four Easy Watercolor Projects for Beginners students will learn additional watercolor techniques and will practice by applying them to landscape subjects.
This course is intended for persons with little or no previous art experience.  Both new and returning students are welcome.
Watercolor paper, instruction sheets, and a list of other materials needed will be sent to participants before the first class. 
Course will run Thursdays 1-4pm
OCT 21 Oct 28, Nov 4, Nov 11
Maximum 8 students                    $ 5.00 material fee
Full Course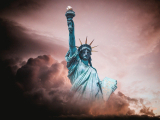 What Our Nation's Founders Believed
with Ian Kaiser

Dec 2, 2021 at 10 am

, runs for 4 weeks
As a Businessman, Pastor, and City Manager, I have been passionate about making a difference in the communities I have lived and worked in.  I have wrestled with change within a culture that resists change. I believe an examination of our history in light of our beliefs and changing culture can move us forward toward a more perfect union. 
At a time when our country seems divided by extremism, this course draws upon history to offer a new perspective on God and politics. Religion shapes our public life.  We will explore how our nation grapples with faith and government.  How did our Founders and great leaders know where the work of God stopped and common and reason began?  By exploring our history through the eye of Washington through Ronald Reagan,  from the Declaration of Independence to The Civil Rights Movement of Martin Luther King and beyond, we will gain clarity on how their beliefs shaped our country.