Filter by Category
Our Classes
Religious Conversion... What is it?
with Steven Piker

Mar 3, 2023 at 1 pm

, runs for 6 weeks
Of what does religious conversion consist? There has been and continues to be alot of conversion in our American world.  We will see conversion as an integral part of the entire life of the convert, a part in which the convert has considerable creative agency.  We will look especially for both changes and continuities in converts' lives across the conversion itself by consulting detailed case materials, some of them arising from my own research.  We will want to grasp conversion from the convert's point oƒ view……. how the convert understands and experiences it, what it feels like and tastes like and smells like to the convert.  We will get to know a couple of religious converts real well.  Some lecture, more discussion
SUGGESTED reading .  Shirley Nelson.  THE LAST YEWAR OF THE WAR(new from Amazon at $30, used at $5.27 or less); and an unpublished ms., to be circulated among all class members at no costt.
Your instructor:
Steven Piker is an anthropologist. He has done field work in Thailand and the U.S. His main interests include religion, American Indians and human evolution. He taught for 44 years at Swarthmore College. Four of our Maine senior colleges have provided his popular coiurses.
Persia.... now Iran
with Louis Salome

Apr 5, 2023 at 12 pm

, runs for 4 weeks
Most of what Americans know about Persia comes from the Greeks via the Persian wars -- Thermopylae, Pheidippides and the Battle of Marathon, the naval battle at Salamis, Cyrus the Great, Xerxes and Darius. We know little or nothing of what a great empire ancient Persia was. Most of the rest of what we know flows from post-1979, when Iranians seized the U.S. embassy in Teheran and held 52 foreign service officers hostage for 444 days. We are taught little or nothing of Persia's place in the world from the ancients to the moderns, or of its critical location which constantly tempted Russia, the Ottoman Empire and more recently the West during the Cold War and the Age of Oil. We will start this class, not at the beginning of time, but at the now, with the rise of the Islamic Republic of Iran in 1979. Only then will we return to the beginning.
Your Instructor:  Lou Salome
 Lou is the author of "Violence, Veils and Bloodlines: Reporting from War zones in Europe, Asia and Africa" . He earned a BS from the College of the Holy Cross and a MA from Boston College. He is a retired COX Newspapers reporter who has covered the conflicts in Pakistan, Afghanistan and the Middle East.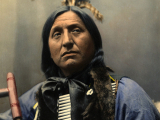 American Indian Renaissance
with Steven Piker

Apr 14, 2023 at 1 pm

, runs for 6 weeks
The U.S is, arguably, the most plural of all nations.  But…… can our nation's pluralism accommodate Indian identities? At the end of the 19th century, many Indians as well as settlers  thought, no, it cannot; and expected Indian cultures soon to disappear entirely.  From what was then known and knowable, a sensible expectation…….. which, however, has been falsified by a vibrant Indian cultural renaissance during the 20th century…… which is the subject matter of this course.  Course themes include….Indian agency, creatrivity, resilience, self worth, identity……..and cultural syncretism.  And our cast of characters will include settlers as well as Indians…. 
A traditional Navajo felicitation:  "Walk in beauty"
'SUGGESTED Reading:  David Treuer.    THE HEARTBEAT OF WOUNDED KNEE.  NATIVE AMERICA FROM `1890 TO THE PRESENT.($5-$12), and a few articles to be distributed.
Your instructor
Steven Piker is an anthropologistr with field work in Thailand and the U.S. His main interests include religion, American Indians, and human evolution. He taught  for 44 years at Swarthmore College and has presented many popular courses  four of Maine's senior colleges.