Filter by Category
Adventure
The Music of Your Life: '50s and '60s
with Lorraine Masure

Mar 31, 2023 at 10 am

, runs for 1 week
A concert/lecture survey of the unique aspects of the music of the '50s and '60s. Historically set between the eras of big bands and disco, students will enjoy hearing musical selections that are reminiscent of the diverse music of the '50s (rock and roll, classic rock, blues, country music) and how these various musical styles eventually gave way to the '60s (the huge British invasion of the Beatles, the rich harmonies of folk music, and even more rock and pop). Come to listen, to sing (muted), and mostly to look back on the endearing memories of a simpler time in the music of your life!  From "Love and Marriage" to "Hey, Jude," "The answer is blowing in the wind!"
Lorraine Dutile Masure has led senior college courses about Broadway musicals across four academic venues during the past ten years. She continues to delight connecting with seniors and discussing the alluring world of music and theatre.
Friday March 31   10am   ZOOM
A Good Look at the Good Book
with Paul Doherty

Apr 10, 2023 at 1 pm

, runs for 6 weeks
Exploring the Bible as History and Literature...No written work has had the same impact or has sold as many copies over the past two millennia or so as the Judeo Christian scripture we know as the Bible. This unique collection of various literary styles, fascinating characters, and compelling stories blending both history and myth has been read and studied by great numbers of people, believers and non-believers alike, influencing along the way as well so much art, literature, music, and theater. Join us as we explore these stories and histories, as well as the Bible's own intriguing history and impact.
Paul Doherty is an armchair theologian with experience in music, broadcasting, and ministry. He has also been teaching for several years at two Maine senior colleges, including South Coast.
 PLEASE NOTE:
This class will be offered in person at the York Chamber of Commerce and on ZOOM at the same time..
Monday April 10, 17, 24  May 1,8,15  1pm to 3pm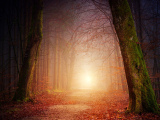 Mainely Books: Crime Stories
with Steve Thornley

Apr 17, 2023 at 10 am
 We've launched an exciting program to introduce you to and explore the vast and varied (like our landscape) body of literature about Maine by Maine authors…or about Maine by non-Maine authors…or non-Maine topics by Maine authors. Our scope will be wide-ranging and will include both old and new works of fiction and non-fiction. We'll read well-known authors and introduce you to some new ones. It'll be an eclectic assortment of interesting and provocative readings that hopefully stimulate your "little gray cells" and generate lively conversation.
This course will meet on Monday mornings, via Zoom from 10:00AM to 11:30AM to discuss the following books on these dates:
 April 17th: The Poacher's Son by Paul Doiron
 May 15th: Among the Shadows by Bruce Robert Coffin
Steve Thornley is an artist, historian, teacher, and lifelong learner and lives in Wells with his wife, Nancy.